Smile Makeovers at Hill Dental Studio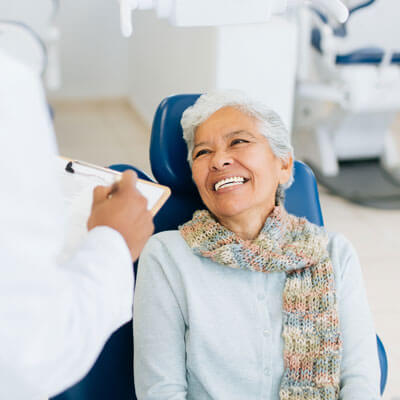 The perfect accessory in any situation is a gorgeous smile. It'll never go out of style, and it can even enhance your self-esteem. You deserve to love what you see when you look in the mirror. If you're not satisfied with the way your teeth or gums look, we have options for you. The experienced dentist at Hill Dental Studio provide a full range of solutions to restore your natural-looking, beautiful smile.
The Options for Your Smile Makeover
If you haven't been to the dentist for some time or have had extensive damage to your teeth, you may be an ideal candidate for a smile makeover. A smile makeover can involve a broad range of different procedures, combined for your benefit. These alternatives include
Dr. Hill
is a former clinical instructor at the Las Vegas Institute. At this prestigious institution, he taught others how to complete beautiful smile makeovers. During the course of his career, he has placed more than 15,000 porcelain restorations.
When you choose to have your smile makeover with us, you can be certain that you'll be involved each step of the way. We listen carefully to what you want, then determine the best path to get you there. You'll have a say in each step of the process, making sure that you're thrilled with your results.
When it comes to our products, we choose only the highest quality available. Our local laboratories have experienced technicians who are experts in creating just what you require. Your custom-made restorations will be made to our exact specifications. We'll work side-by-side with our technicians to ensure that you get exactly what you need to reach your goals.
What to Expect During Your Smile Makeover
The first step in your smile makeover is a simple conversation with us. You'll sit down with your dentist to discuss what you would like to achieve. We'll evaluate your level of oral health and make our best recommendations about how to proceed with your smile makeover. We'll even give you a "trial smile," which is a cosmetic mockup of how your smile will look when all your procedures are completed.
You can "try on" your new smile before we get started, then make any changes you want. Then, we'll proceed with the treatment that duplicates those results. You'll receive Dr. Hill's personal cell phone number, and he'll follow up with you at the end to make sure you're happy and satisfied with your smile makeover.
Complimentary Consultations Available
If you want more information before you decide what you'd like to do, contact us today! We'll meet with you for a complimentary consultation and discuss your options with no cost or obligation. Call our team to schedule your time to learn about smile makeovers Allen! We provide 0% financing payment plan options.
CONTACT US »

Smile Makeovers Allen TX | 469-617-6488