Sedation Dentistry in Allen, TX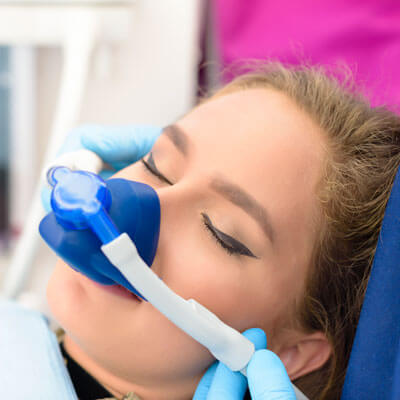 At Hill Dental Studio in Allen, TX, we want your dental care to be simple and easy for you. We understand that many people feel apprehensive about visiting the dentist. It's our goal to take away any nervousness you feel so that you can relax and know you're in the right hands.
Our dental team in Allen, TX prides themselves on offering comfortable care, no matter which procedure you require. There are sedation options available to our patients, including local anesthetic, oral sedation, nitrous oxide and intravenous (IV) sedation.
Are you having a procedure that addresses a small site? If you need a specific area of your mouth numbed, local anesthetic will make sure you don't feel anything. It is injected directly into the part of your mouth that will be worked on. You'll be able to drive yourself home after your appointment. Please note that your mouth can remain feeling numb for a few hours afterward, so be careful when eating or drinking.
If you would like to relax before your appointment, we can prescribe you with an oral sedation tablet. You'll take one the night before your procedure. On the next day, you'll take another about an hour before your appointment with us. We'll talk to you to make sure that oral sedation is appropriate for you before we prescribe it. It allows you to remain completely conscious during your procedure with none of the anxiety that you might usually have at the dentist's office.
Nitrous oxide is commonly referred to as "laughing gas." We're pleased to offer it free of charge at our clinic. It can be used for nearly any procedure that you have completed with us. It's simple to administer and wears off quickly. You'll wear a mask and breathe normally in and out. The gas will give you the effect of being relaxed while still feeling like yourself. It erases the apprehension you feel during treatment. The feeling will wear off within just minutes of when you stop breathing the gas.
Would you like to be unconscious while you have your dental treatment? You may benefit from intravenous (IV) sedation, which is administered directly into your bloodstream. This form of sedation is administered by an anesthesiologist. We have one in our network that can come into the office to give you this form of sedation. You'll wake up after your procedures with no memory of what has occurred. You'll need someone to bring you home after your appointment, and plan to take the rest of the day off.
Complimentary Consultations Are Available
You can learn more about our clinic, team and procedures without incurring any cost or having any further obligation. We're pleased to provide complimentary consultations for any of our services. We'll meet with you to discuss your needs and make our best recommendations to you about how to proceed.
Learn more about sedation dentistry in Allen, TX and our many other solutions. Call us today! We have same-day visits available.
CONTACT US »

Sedation Dentistry Allen TX | 469-617-6488