Porcelain Veneers in Allen, TX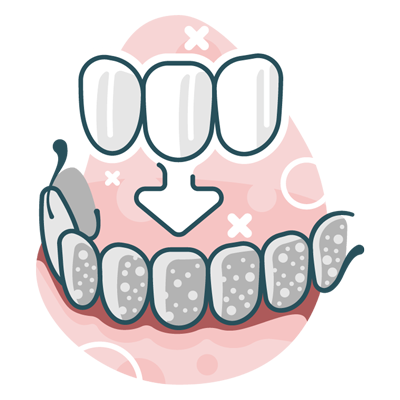 Who doesn't like the idea of showing off a perfectly aligned, bright smile? If your teeth have been damaged, you may have considered how you can improve them. With veneers, you have a simple solution that can mask a broad array of concerns, such as
Discolored teeth
Chipped teeth
Gapped teeth
Misshapen teeth
Misaligned teeth
Your Experts in Veneers in Allen, TX
Dr. Hill is a past clinical instructor at the Las Vegas Institute. He has extensive experience in educating others on the benefits of veneers and how best to undertake veneer treatment. Over the course of his career, more than 15,000 porcelain restorations have been completed for his satisfied patients.
We understand the importance of taking the time to listen to what you would like to achieve. Our role is to lead you down the path to reaching your goals successfully. You'll be involved in the process of creating your ideal smile, each step of the way.
Our Stunning Results
We're proud to work with local laboratories. That way, if we need to communicate with them directly to get you the most outstanding results, it's simple for us to do so. Our technicians use materials that are made in America. Rather than to work with a budget-centric laboratory, we've chosen to go with only the best.
FAQs
A veneer is a thin shell that resembles a fake fingernail. Rather than being placed on your fingers, it's placed over your existing teeth. When your veneers are cemented into place, you can cover imperfections and feel confident in showing off your sparkling smile.
You must be stringent about not damaging your veneers. For example, don't chew ice or open packaging with your teeth when you have veneers. You should see us for biyearly checkups in addition to your strict home hygiene routines. In doing so, you'll ensure that your veneers can last for years to come.
Why are your veneers made from porcelain?
We provide you with porcelain veneers because of the strength of porcelain. Your veneers will be stable and long-lasting. Plus, there are additional benefits such as that you don't need much of your tooth enamel removed to place the veneers. They look extremely natural, and are less invasive and costly than other dental solutions such as crowns.
No. We're pleased to offer you nitrous and anesthetic so that you remain comfortable throughout your procedure.
What does the process of getting porcelain veneers involve?
There are two appointments necessary to get your veneers. At your first appointment, we'll talk about what you want and take information such as impressions of your teeth. Our laboratory will then create your veneers and send them back to us. You can return for your second appointment, where we'll place the veneers. You and your dentist will carefully inspect them to make sure you're satisfied. Then, they'll be cemented into place.
Get Started Today
Would you love to have a more dazzling smile? We can help you get there. Contact us today to learn about porcelain veneers in Allen, TX!
CONTACT US »

Porcelain Veneers Allen TX | 469-617-6488