Invisalign in Allen, TX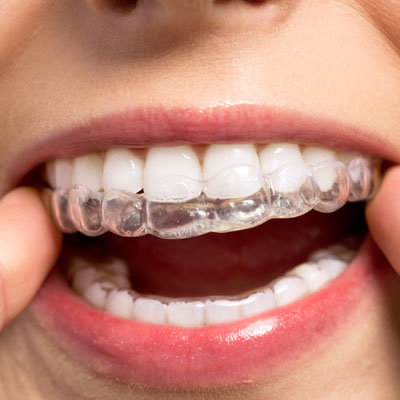 If you've ever wanted to achieve a straighter, healthier smile, it's never been easier. Our practice in Allen, TX is proud to offer advanced Invisalign clear aligners for patients of all ages and walks of life.
Invisalign consists of a series of several clear aligners custom fit to your teeth and smile, with the ultimate goal to improve the alignment of your teeth. Invisalign is often an ideal course of care for patients with gaps, bite problems, or slightly misaligned and crowded teeth.
When you visit us for your initial appointment, we'll take a look at your smile and let you know if you're a candidate for care. If you'd like to move forward, we'll lay out the exact financials so you don't experience any surprises. We'll then take impressions of your teeth and send them to an Invisalign lab for rendering. During your care, we'll be in complete contact with the lab and have the ultimate say and control in how we'd like your new smile to look and function.
Improved Function and Aesthetic
Most patients come to us aware that Invisalign can improve the look of their smile, correcting crooked and misaligned teeth. We like to let our patients know that the benefits go far beyond that-and into improving function.
Invisalign technology continues to improve, and now more than ever, we're recommending the treatment to patients with bite problems in order to help reduce wear and tear on their teeth. This can help their natural teeth last longer and stay strong and healthy for years to come.
Invisalign is also instrumental at preventing cavities-think of it this way: When your teeth are crooked or overlapping one another, it can make cleaning them adequately quite difficult. When teeth are straight and in proper alignment, brushing them is simple, as you're able to get into the natural grooves of your teeth with ease.
Invisalign Frequently Asked Questions
Have other questions that aren't featured below? Simply give us a call and we'll be happy to address your comments or concerns.
How often do I need to wear the clear aligners?
It's important to stick to the recommended amount of time, which is 22 hours of wear each day. This accounts for brushing, flossing and eating, which are the only times that you're allowed to remove your aligners. Wearing your aligners for less than the recommended amount may lead to less desirable results and a longer treatment plan.
When you begin treatment, it's not uncommon to feel a bit of pressure in your mouth as you get used to wearing your aligners. After a day or so, you'll have adjusted and they shouldn't be as noticeable. Aligners rarely cause pain, but they may produce slight pressure when you change them out for a new one.
Direct to consumer aligners seem to be cheaper. What's the catch?
There are a number of 'direct to consumer' clear aligners being advertised today. When you opt to go this route for your teeth alignment goals, it's important to consider that a dedicated dentist or orthodontist is not reviewing your aligners. When you choose Invisalign, we're with you every step of the way and making sure that the proper alignment goals are set for your smile's aesthetic and function. A direct to consumer aligner is essentially a "DIY" smile-we wouldn't recommend this.
How often will I visit your practice during the course of my care plan?
Another great benefit of Invisalign is that patients typically only visit our practice three times during the course of their treatment plan-in the beginning, middle and end of care. This helps to cut down on co-pays, which can be high and frequent when traditional metal braces are involved.
What should I do if my aligners are causing pain?
If you experience prolonged pain with aligner wear, we recommend visiting our practice so that we can get a first-hand look at what's going on. Remember, we'll be here for you every step of the way during your treatment plan and want you to have the absolute best results possible.
Learn More
Wondering if Invisalign is right for you? We'd love to see you in our Allen, TX practice soon to go over how the treatment can help you get the smile of your dreams. We're proud to offer payment plans through Care Credit. Contact us today to get started!
CONTACT US »

Invisalign Allen TX | 469-617-6488