Dental Implants in Allen, TX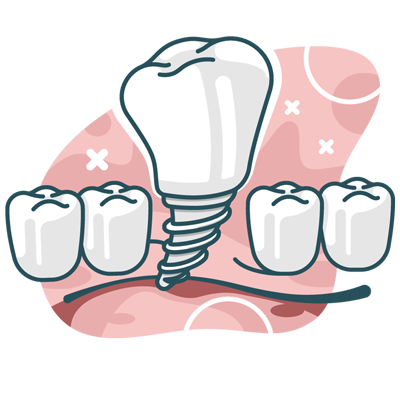 At Hill Dental Studio in Allen, TX, we love seeing our patients leave feeling satisfied with their results. It's our goal to ensure that you're thrilled with your smile. With our broad range of services, we're sure to meet your needs. Our experienced team has the expertise and knowledge that you want when you're seeking our dental care.
If you are missing teeth, we have teeth replacement options for you. These solutions include one of the most revolutionary developments in the industry, dental implants. A dental implant has the appearance, function and feel of a natural tooth. It doesn't require any special care and is loved by our satisfied patients. Read on to learn more about whether you're a candidate for dental implants!
A dental implant is a titanium post. It is implanted into your jaw bone where a tooth is missing. Once the area has healed, you can place a restoration on the implant to complete the procedure. The restorations you can have affixed to an implant include crowns, bridges and dentures.
Denture implants are a suitable option to replace one missing tooth, multiple missing teeth or all of your teeth.
The majority of our dental implants are completed through computer-guided surgery. The advantages include minimal downtime for you and we typically don't need to put any stitches in for you to heal. We'll create a 3D computer model of your mouth, then determine where to place your implant for the best results. We can analyze where your bone material is adequate or where the nerves are for the easiest possible procedure.
The computer model will create a guide, which we can use to precisely place your implant in the proper position.
Am I a candidate for dental implants?

The only way to discover if dental implants are right for you is to have a consultation at our clinic. We'll meet with you to evaluate your teeth and jawbone. In some cases, you may require a procedure such as bone grafting before the implant can be placed.
Are there alternatives to having dental implants?

Yes! We offer alternatives to dental implants such as a dental bridge, partial dentures and full dentures. We'll discuss which is most appropriate for you at your consultation.
What is the process for getting a dental implant?

After your consultation, there are two stages to getting a dental implant. During the first stage, we'll place the implant in your jaw bone. You'll receive a temporary restoration to wear while the site heals. After a few months has passed, we can put your permanent restoration in place.
Is there a charge for a consultation?

We are pleased to offer complimentary consultations. You can learn about dental implants in Allen, TX and whether they're right for you without any cost or obligation involved.
Get Started Today
Contact Hill Dental Studio today to schedule your consultation! To cover the cost of your care, we'll be happy to discuss our 0% financing payment plans. Would you like to be seen immediately? We provide same-day appointments.
CONTACT US »

Dental Implants Allen TX | 469-617-6488