Full & Partial Dentures in Allen, TX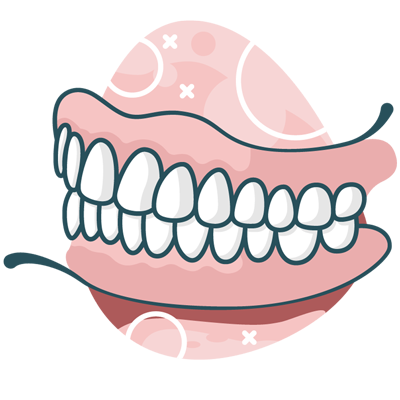 With years of experience, the Hill Dental Studio team in Allen, TX has the solutions you need to show off a gorgeous smile for life. As the years go by, you may have faced the loss of some or all of your teeth. If so, we can provide you with dentures that look natural, fit snugly and are comfortable to wear.
Today's dentures aren't like the ones your grandparents used to wear. They are available in a broad range of materials and formats to suit your needs. We feature both full dentures and partial dentures depending on what is most suitable for you.
When you think of dentures, you likely think of the full denture. It replaces both your upper and lower teeth. Your full denture will fit snugly onto your gums, stuck there by suction. You'll remove them at night, then place them in a cleaning solution. You can begin wearing them again in the morning when you wake up.
If you still have some healthy teeth in your mouth, you don't want to have to extract them. A partial denture will fit right around any vital teeth that remain. It can be placed in the upper arch, lower arch or both. There will be spaces in the denture that accommodate your existing teeth.
You may want to rejuvenate your appearance but wouldn't want to resort to having any surgical procedures done. Have you considered that dentures can erase years from the way you look? If you don't have the support that your teeth give, you may notice that your face looks saggy or as if it's collapsing in. Your dentures can give you more facial support, giving you the instant boost of a facelift without having any surgery!
If you would like dentures with an extremely secure feel, we have the right options for you. You can have your dentures affixed to a series of dental implants. The number of implants you'll have depends on how many teeth you'll need to replace. The denture can then be placed right on the dental implants. You won't have to worry about any sliding or falling out when your dentures are supported by implants.
Emergency Cases Welcome
Are you having a problem with your denture? You may be having a dental emergency. We offer 24-hour care for emergencies. All you have to do is contact our office to get the immediate attention you need.
Affordable Payment Plans
We have payment plans available that provide 0% financing. Find out more about covering the cost of your care by contacting us today! Same-day visits are available.
Complimentary Consultations Offered
If you would like to learn more about dentures in Allen, TX, we'll be pleased to meet with you for a complimentary consultation. We can discuss our dentures with you and more about your options for them without any cost or obligation to move forward. You'll learn about what we can do for you, then decide whether you would like to proceed.
CONTACT US »

Full & Partial Dentures Allen TX | 469-617-6488