Dental Fillings, Inlays, & Onlays in Allen, TX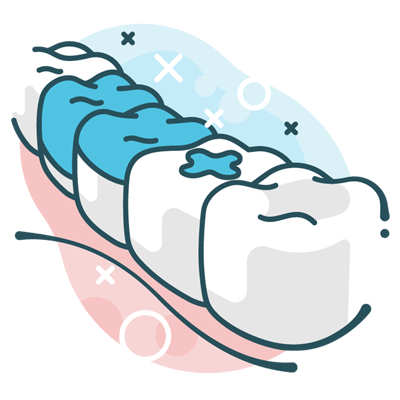 The experienced team at Hill Dental Studio in Allen, TX will help you love your smile again. If you are concerned about damage to your teeth, we have the full range of services you need to restore your great oral health. We'll carefully evaluate you, then make our best recommendations about how to address your particular problem.
If you have had damage such as decay, a filling, inlay or onlay will likely be your best bet. Below, you can read more about each of these options and what you can expect during your procedure.
A dental filling can make your tooth healthy again once it's been affected by decay. The filling materials most commonly used is a composite that is color-matched to your teeth so that nobody will notice it's there.
An inlay is similar to a filling. Created from porcelain, it is a restorative option that fits into the grooves of your teeth. It is appropriate for teeth where the cusps haven't been affected by damage.
An onlay is a porcelain restoration that fits over the biting area of your teeth. It is appropriate for a tooth where a regular filling isn't adequate but a crown would remove too much healthy tooth structure.
What to Expect in Getting a Filling
You can complete the process for getting a filling in just a single visit to our clinic. We'll evaluate your tooth and may use diagnostics such as X-rays to get a full view of the area that needs to be addressed. Once we've made the determination to move forward with a filling, we'll numb your teeth and gums. We want you to remain comfortable throughout the entire procedure.
Then, the decay is removed from the tooth, making sure the bacteria can't spread. The area will be replaced with a filling, which is shaped and polished to a smooth finish. Your mouth may feel numb for a few hours afterward. You can expect your filling will last for years as long as you take great care of your oral health.
What to Expect in Getting an Inlay or Onlay
The process for getting an inlay or onlay is similar to that of a dental filling but takes place over two visits. That's because inlays or onlays are custom-created restorations that must be fabricated in our local laboratory.
The first step is to clean the area of decay or damage. We'll take impressions, then give you a temporary restoration to protect your tooth until you get your permanent inlay or onlay. Our experienced technicians will make your inlay or onlay, then send it back to us.
You'll return for a follow-up where we'll remove your temporary restoration and replace it with your permanent inlay or onlay. With the proper care, your inlay or onlay will last for years.
Complimentary Consultations Available
If you would like to find out more about what we can do to improve your smile and enhance your oral health, contact our friendly team today! We'll get you scheduled for a consultation with our team. At this appointment, we'll discuss what you would like to achieve and how we can assist you in getting there. Once you've decided to move forward, we'll be happy to discuss our 0% interest financing plans with you.
CONTACT US »

Fillings, Inlays, & Onlays Allen TX | 469-617-6488