Dental Crowns in Allen, TX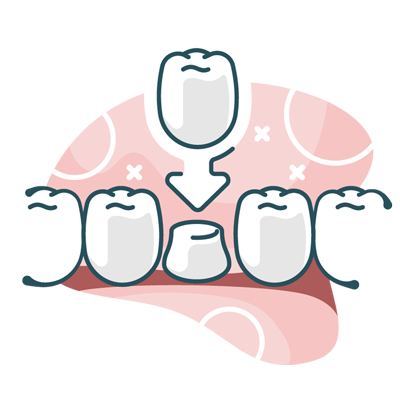 At Hill Dental Studio in Allen, TX, we want you to feel proud of your smile. When you're happy with your appearance, it shows. You can make a positive first impression on others and exude a glowing self-confidence when you love the way you look.
If you feel like your oral health is holding you back from showing your natural beauty, we can help you. When your teeth have been damaged, you want to restore their health and vitality. A dental crown is a simple solution to addressing
A failing filling
Broken teeth
Fractured teeth
Post-root canal treatment
Severe decay
Worn down teeth
A dental crown is a cap that resembles a tooth, except for that it is hollow. It is placed over a tooth that has been damaged. When applied, a crown will improve the strength of a tooth, transform its appearance or change its size. Your crown can be made from a variety of materials including porcelain, metal or ceramic. A crown will cover the entire tooth right down to the gumline.
If you do not require this amount of coverage, we may recommend an onlay instead.
We've chosen to work with a local laboratory. Rather than outsourcing to another area of the U.S. or another country, we can speak with our laboratory at any time. This ensures that we can speak with them anytime we need to, getting you the best possible results. Our laboratory has experienced technicians who will create your crown from the best available materials on the market today.
The first step in getting a crown is to have a consultation. One of our dentists will sit down with you to discuss what you would like to achieve. We'll perform a full evaluation of your teeth. Once completed, we can make our best recommendations for you on how to proceed. If we think you may benefit from another service, we'll be sure to discuss that with you. It's always left up to you to decide what you would like to do.
Once you've decided on a crown, we will take impressions. Though some clinics use scanning technology for this part of the process, we've learned that scans don't give as predictable of results. Taking impressions ensures that your crown will fit in your smile seamlessly.
The information is sent to our laboratory. When they've created your crown, they'll send it back to our clinic. You can return for a follow-up to have your crown fitted and cemented into place.
In some cases, you may be a candidate for having your crown created on the same day that you come in for your consultation. We have a CEREC machine on-site. With this technology, we can have the information for your crown sent to the machine. It's fabricated right in our office, with the entire process completed rapidly. If we think that a same-day crown is appropriate for you, we'll be sure to discuss it with you.
Book Your Appointment Today
Find out more about dental crowns in Allen, TX and how we can improve your oral health. Contact our team today to schedule a complimentary consultation! Same-day visits are available.
CONTACT US »

Dental Crowns Allen TX | 469-617-6488