Children's Dentistry in Allen, TX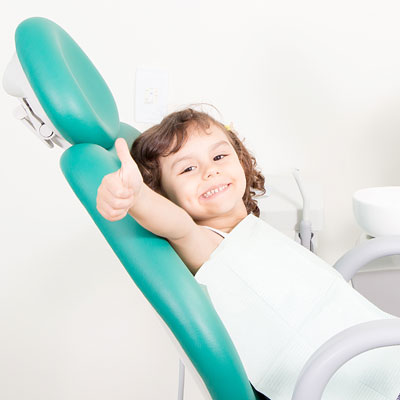 The team at Hill Dental Studio in Allen, TX provides you with a full range of dental services. It's our goal to make sure that we offer you quality treatment in our warm, comfortable environment. We believe that a visit to the dentist should be a positive experience for everyone in your family, including your children.
We're pleased to see children of all ages. If your child requires a pediatric specialist, we'll be happy to refer them to someone in our network. The many services that we provide for children include preventative care visits, fissure sealants, fluoride treatments, custom mouthguards and emergency care for kids.
Preventative Care Visits
A preventative care appointment for a child is about the same as that of an adult. We'll focus on making it fun for them and involving them in each step. An examination of their teeth and gums, X-rays and a full healthy mouth cleaning are included in their preventative care visit. We'll also take the time to discuss how they can prevent cavities with their home oral hygiene routines.
Your child will be shown how to brush with the proper technique and how to floss their teeth. If we identify any problems that require further treatment, we'll discuss our findings with you.
Just like an adult, a child should see us every six months for their preventative care appointment.
The back teeth in your mouth have deep grooves in their chewing surface. These pits are places where bacterial and food particles can easily gather. To make them easy to clean and prevent decay from setting in, we can apply a fissure sealant to these teeth. This clear coating takes just minutes to complete and doesn't involve any discomfort.
Fluoride is a naturally-occurring substance that has an incredible power to fight off cavities. It's included in most toothpastes and in many mouthwashes. When your child comes in, we can provide them with a fluoride treatment that will give an extra measure of protection against tooth decay.
Is your child active in sports? They've likely had some type of an injury before. But have you considered that their mouth is also subject to trauma while they're in the game? We can provide your kids with custom-created mouthguards to where while they're playing sports. They're comfortable, allow them to speak normally and will provide an extra measure of protection to their head, neck, jaw, mouth and cheeks.
You can never anticipate when an accident is going to happen. When it does, know that we're here for you. We're available to see your children 24 hours a day if they are a current patient with us. If you're unsure as to whether you need emergency dental care, contact us immediately and we'll talk you through it.
Same-Day Visits Available
If you would like to get in right away for children's dentistry in Allen, TX, we can provide your child with the care they need right away. We have same-day appointments available. Contact our team today to schedule your child's time with us!
CONTACT US »

Children's Dentistry Allen TX | 469-617-6488