Dental Bridges in Allen, TX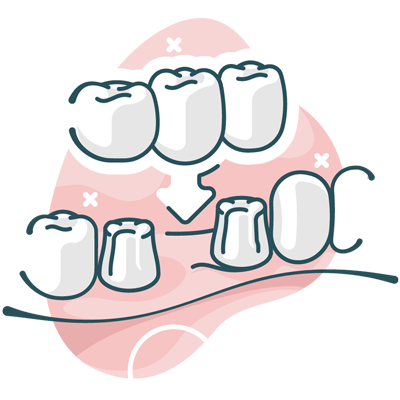 The team at Hill Dental Studio in Allen, TX has the expertise and experience to provide you with a comprehensive range of services. We're pleased to offer a broad variety of solutions to suit your needs. If you're missing a single tooth or multiple teeth, you've likely considered some options in tooth replacement. We can discuss which is most appropriate for you at a consultation.
If you would like a cost-effective tooth replacement that is fixed and non-removable, a dental bridge may be ideal for you. Our dental bridges are created from the highest quality materials in our local laboratory. All of our products are made in the U.S. by technicians who have years of experience. We'll custom-create your bridge to fit seamlessly in with the rest of your smile.
What is a Dental Bridge?
A bridge is a way to restore your smile when you have teeth that are missing. It's appropriate for replacing a single missing teeth or multiple missing teeth. A bridge is made up of a row of false teeth. The teeth on the ends of the bridge are affixed to the teeth that are on either side of the gap in your mouth. The middle teeth of the bridge can then be suspended into that gap, replacing the missing teeth.
The many advantages of a dental bridge include that it is
Fixed in place
Cost-effective
Matched to the rest of your teeth
FAQs
Are there alternatives to having a dental bridge?
Yes! We also provide options such as dental implants or full and partial dentures. If you're missing teeth, we'll be happy to evaluate you and make our best recommendations as to which is most appropriate for you.
How will my dental bridge look?
We'll work with you to design your dental bridge together. We want to ensure that you're happy with the result. Our dental bridges look completely natural, fitting in with the rest of your teeth. They'll be shaped and colored to perfection in our laboratory.
How many visits does it take to get a dental bridge?
You'll need two visits: one to have impressions taken, and another when our laboratory returns your completed dental bridge to us. Once it's cemented into place, we'll go over all the proper instructions with you about caring for your bridge.
Can you put a bridge on a dental implant?
Yes! A dental bridge can be affixed to a dental implant. When you choose to have this procedure done, your bridge will feel completely stable and secure. A dental implant is a sure way to feel confident about your smile.
We're One of the Nation's Top Dentists
Hill Dental Studio is proud to have been named one of the nation's best dentists by The National Consumer Advisory Board. You'll find that we're also ranked in spot #1 on nextdoor.com. Check out our many five-star reviews online, too!
We're pleased to offer complimentary consultations for dental bridges in Allen, TX or any of our other available services. Contact our friendly team today to schedule your time with us! We have same-day visits available.
CONTACT US »

Bridges Allen TX | 469-617-6488